Biology Handbook For NEET-UG Exam
NEET is India's sole national-level medical entrance test for undergraduate programs such as MBBS, BDS, Veterinary, and others. It is carried out under the administration of the National Testing Agency (NTA). It is an objective-type (MCQ) exam with four subject-specific portions on Physics, Chemistry, Botany, and Zoology. It becomes difficult to pass NEET or stay ahead of the competition without proper planning and, more significantly, high-quality books in your hands. Since the NEET (National Eligibility cum Entrance Test) is a highly competitive medical entrance examination in India, it is vital for aspirants to understand the significance of good books. Subject matter experts and toppers advise referring to the NEET Handbooks, especially for Biology, after completing the concepts from NCERTs.
Biology is considered one of the most crucial subjects in the NEET exam, having a vast syllabus. It is the subject on which students can score pretty high if they manage their preparations well. Moreover, Biology is fundamentally an essential component of the NEET exam. Botany and Zoology are the two primary categories of Biology, and it requires a good understanding of the topics covered in Botany and Zoology. It goes without saying that applicants should focus more on the biology component of the NEET exam as it has a higher weightage. The biology section of the exam consists of 100 questions and makes up for 360 marks in the exam. The ALLEN Biology Handbook for NEET-UG Exam will explain to applicants the fundamentals and will also assist them in knowing how to proceed with their revisions.
It is also one of the top books for a quick review of Biology fundamentals before the exam. The ALLEN Biology Handbook For NEET-UG Exam is curated by experienced ALLEN faculty and covers the complete NEET-UG syllabus for Biology. It can also help you with your VIVA questions and will improve your score significantly. It offers theoretical and practical ideas to boost exam preparation. Comprehensive, well-researched, and written in an easy-to-understand fashion, ALLEN Biology Handbook For NEET-UG Exam is a great resource. It gives candidates the information base they need to pass the test. The handbook offers examples, quick tips, and techniques for tackling problems to help candidates do well on the NEET-UG exam. A comprehensive review of the MCQs from the handbook will improve the memorization of the concept for a longer time period. It will be a blessing for students who live in areas where they cannot attend or afford classroom courses.
The study guide is intended for non-ALLEN residents because similar materials will be given to students enrolled in the Allen Classroom and Distance Learning Program.
Features of Allen Biology Handbook
The Biology handbook covers the whole course and adheres to the most recent NEET-UG exam schedule.
This Biology handbook is designed by an expert team of experienced ALLEN teachers and will help a student perform well on the exam.
It will assist students who are unable to attend classroom courses in gaining ALLEN's experience and competency.
It assists in the development of higher-level understanding in NEET-UG candidates.
ALLEN's Biology Handbook for NEET-UG includes detailed notes as well as informative diagrams.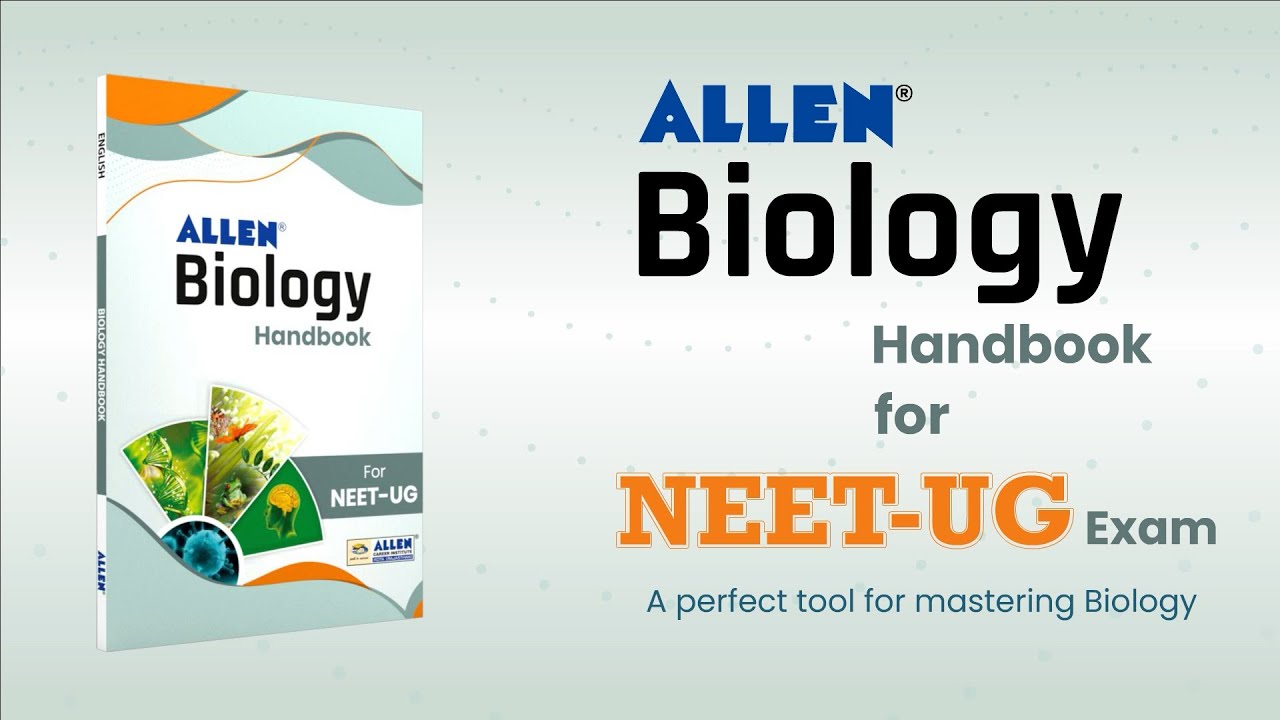 Topics Covered in Allen Biology Handbook
Anatomy Of Flowering Plants.
Animal Kingdom
Plant Kingdom
Biomolecules
Ecology and Environment
BIOTECHNOLOGY – Principal, Processes, and Applications
Digestion and Absorption
Locomotion and Movement
Body Fluids and Circulation
Breathing and Exchange of Gasses
Microbes in Human Welfare
Plant Physiology
CELL – The unit of Life
Cell Cycle and Cell Division
Morphology of Flowering Plants
Evolution (Origin and Evolution)
Structural Organization in Animals and Plants
Genetics and Evolution
A list of all the chapters is included in ALLEN Biology Handbook For NEET-UG Exam. Hence, you can have the last-minute revision of all the chapters, ideas, and theories at a glance 1-2 days before the exam. After you've finished reading the handbook, candidates can improve their study plan, speed, and accuracy level by practicing the MCQs from the Allen Biology Handbooks. We believe that this handbook will be useful to you while you study and prepare for your exam.
Both physical stores and online retailers sell ALLEN Biology Handbook For NEET-UG Exam for students. Anyone may purchase good books from online retailers like Amazon. This excellent ALLEN Biology Handbook For NEET-UG is also available in Hindi.
If you are looking for a concise and accurate reference book to aid your NEET-UG preparation for Physics, the ALLEN Physics Handbook For NEET-UG Exam is a great option.
ALLEN decided to make these books available on e-commerce platforms after receiving complaints of piracy of these Allen Books. In collaboration with sellers "Repro books on Demand" & "BOOKNETZ".
Note: This Book is for aspirants who are not enrolled with ALLEN.
RELATED BLOGS
Concise revision of Biology CROP for NEET-UG Medical aspirants in our country need to clear the NEET (UG) exam.
Mathematics Handbook For IIT-JEE Exam Mathematics is a pretty challenging subject for every aspirant who is preparing for the.
Question Bank for Practice of Chemistry for NEET-UG The National Eligibility cum Entrance Test, most commonly known as NEET.