Concise revision of Biology CROP for NEET-UG
Medical aspirants in our country need to clear the NEET (UG) exam to realize their dream of becoming a doctor. NEET is attempted by lakhs of candidates every year, but only those who have been consistent with their studies can qualify for it. If you are passionate about becoming a medical professional and want to ace your NEET UG exam, then you need to study smartly.
Biology carries the most marks in the NEET exam. It is, therefore, essential that NEET candidates study Zoology as well as Botany well. ALLEN Biology At A Glance in English & Hindi (Zoology + Botany) is a great book for NEET UG aspirants. It has been specifically designed to help students score exceptional marks in NEET-specific Biology.
What makes ALLEN Biology at a Glance (Zoology + Botany) stand out is that it has been prepared by ALLEN's expert faculty members. These experts are responsible for guiding thousands of students in the ALLEN Career institute to clear the NEET UG exam with high scores. The book, therefore, has been created after a ton of research following the latest NEET UG pattern.
Students will find detailed explanations in the book for complex topics. The topics in the book are pretty much self-explanatory students can use them for self-study sessions. The book is, therefore, especially useful for NEET aspirants who do not attend any coaching classes and prefer to study at home.
ALLEN Biology at a Glance in English & Hindi (Zoology + Botany) also contains summarised notes and key points from all the chapters to help students in focused and quick revision. The illustrative diagrams of the book are also a great feature that helps students memorize as well as understand all the important diagrams.
The book also contains several exercise questions and MCQs based on the NEET exam. These allow the students to get adequate practice for the entrance exam and understand the type of questions that often appear.
Although the NCERT textbook is the main reference material for the NEET UG exam, ALLEN Biology at a Glance (Zoology + Botany) allows students to study every topic more deeply, get practice for the exam, and get a quick revision by going through the summarised notes in the handbook.
Features:
ALLEN Biology at a Glance in (Zoology + Botany) is a boon for NEET aspirants as it is specifically designed based on the latest NEET exam pattern.
It covers all the topics of the Botany and Zoology NEET syllabus in depth.
It has been compiled by NEET experts who have been a part of the ALLEN faculty for years.
It contains all the topics from Class 11 and Class 12 Biology.
ALLEN Biology at a Glance (Zoology + Botany) is a complete NEET book containing detailed explanations, summarised notes, well-labeled and illustrative diagrams, easy explanations of difficult terms, question papers, and exercises.
Students who wish to join ALLEN's coaching institute or classroom courses but are unable to do so due to some reasons can benefit immensely from ALLEN Biology at a Glance (Zoology + Botany).
The book serves as a great revision tool for students who cannot go through the entire textbook close to the exams.
It also contains MCQs on the latest NEET (UG) pattern to help students practice for the exam and improve their speed and accuracy.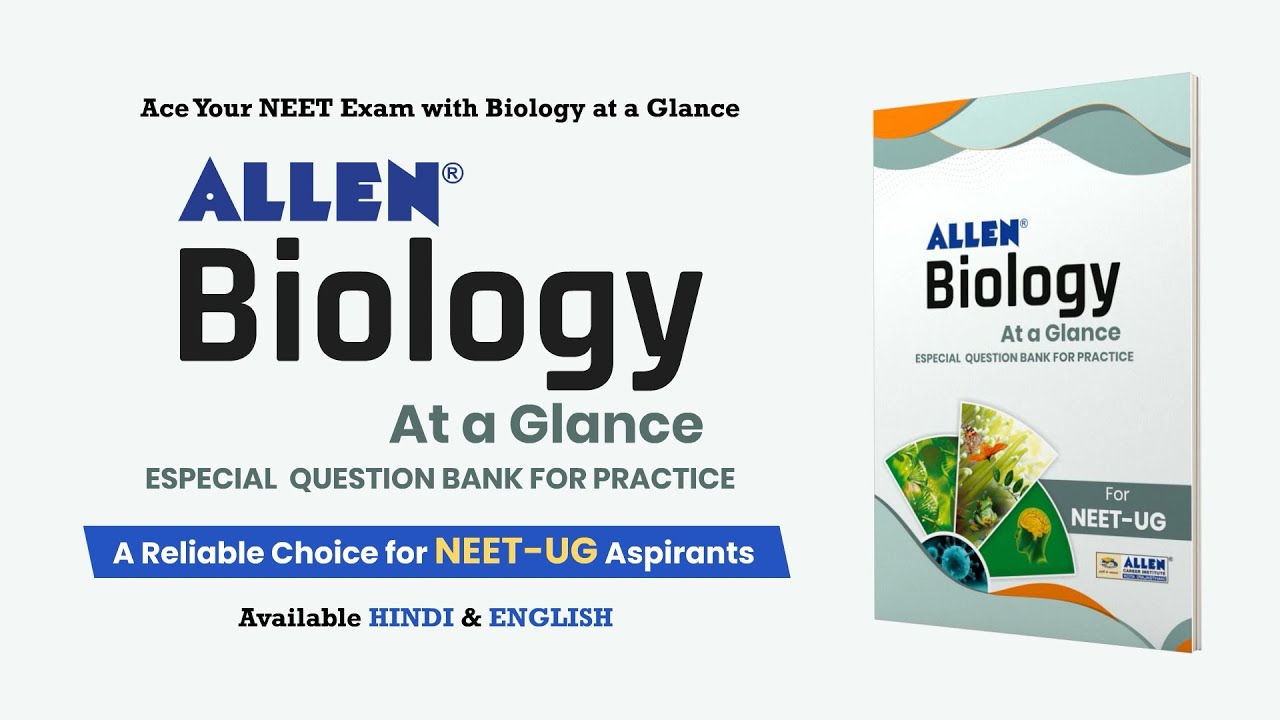 Content in ALLEN Biology at a Glance (Botany + Zoology)
The Biology Handbook contains material from the following chapters/topics:
BOTANY
Diversity in the living world
Morphology of Flowering Plants
Anatomy of Flowering Plants
Cell : The Unit of Life
Biomolecules
Enzyme
Cell Cycle and Cell Division
Transport in Plants
Mineral Nutrition
Photosynthesis in Higher Plants
Respiration in Plants
Plant Growth and Development
Reproduction in organisms
Sexual Reproduction in Flowering Plants
Principles of Inheritance and Variations
Molecular Basis of Inheritance
Strategies for Enhancement in Food Production (Plant breeding, Single cell protein and Plant Tissue culture)
Microbes in Human Welfare
Biotechnology-Principles and Processes
Biotechnology and Its applications
Organisms & Populations
Ecosystem
Biodiversity and Conservation
Environmental Issues
ZOOLOGY
Structural organisation in animals
Animal Kingdom
Digestion and Absorption
Breathing and Exchange of Gases
Body Fluids and Circulation
Excretory products and Their elimination
Movement and Locomotion
Neural control and Coordination
Chemical Coordination and Integration
Human Reproduction and Reproductive Health
Human Health & Disease
Evolution
Domestication of Animal
NEET aspirants can therefore benefit greatly from the content, style, and practice questions provided in the book. Many books for NEET contain difficult-to-understand language, but ALLEN Biology at a Glance (Zoology + Botany), with its simple yet comprehensive content, helps in understanding the concepts effectively.
ALLEN Biology at a Glance in English & Hindi (Zoology + Botany) can be purchased at affordable rates from stores and e-commerce websites like Flipkart and Amazon. Students who are already enrolled in ALLEN Career Institute need not purchase the book as similar material is provided to them in their study package.
Students can now purchase this book on E-Commerce platforms like Amazon, Flipkart, Meesho, etc. Remember that this reference book is beneficial for those who haven't enrolled in ALLEN. Students who are taking coaching classes receive these books in the package itself.
The book can be purchased from various E-Commerce platforms like Amazon, Flipkart, etc.
ALLEN decided to make these books available on e-commerce platforms after receiving complaints of piracy of these Allen Books. In collaboration with sellers "Repro books on Demand" & "BOOKNETZ".
Note: This Book is for aspirants who are not enrolled with ALLEN.
RELATED BLOGS
Here's How JEE (MAIN) 2019, 2020, 2021 & 2022 Topic Wise Test Papers in English & Hindi with their.
Biology Handbook For NCR Class XI The ALLEN Biology NCR Class 11 (NCERT Complete Revision) is a comprehensive book for Biology.
Chemistry Handbook For IIT-JEE Exam When it comes to preparing for competitive exams like IIT, NEET-UG, etc., then chemistry.