Concise Revision of Physics CROP for NEET-UG
ALLEN Physics At a Glance (CROP) in English & Hindi is specifically designed for non-ALLENites preparing for the NEET UG. This Concise Revision of Physics book is drafted by the faculties at ALLEN and is a reliable choice for NEET-UG aspirants. You will find the entire Physics syllabus covered in this handbook, including all the essential practical and theoretical concepts.
The main purpose of this CROP handbook is to prepare the students for the examination. It is a well-researched, comprehensive, and carefully-developed book that makes it a preferred choice for many NEET-UG students. The book comes in a self-explanatory format and provides a complete knowledge of the subjects.
t incorporates various examples, problem-solving application questions, and short tips that help the applicants crack the exam. Not only does this book come with the concepts and practice papers, but it also includes a unique Physics dictionary that helps the students revise the concepts and memorize them. The ALLEN Physics At a Glance (CROP) is suitable for all those who are unable to attend the classes or enroll themselves in the learning program.
Since you have already understood that it plays a significant role in preparing students for the NEET-UG, here are the top 10 reasons why you should buy the Concise Revision of Physics handbook:-
Learn Concepts: This Physics At a Glance (CROP) handbook helps the students learn about all the concepts with clarity and focus. It has a summary of every topic so that the students can look at the important concepts, theories, and formulas and memorize them effectively. The book follows the latest NEET-UG pattern and lays down the theories accordingly. This helps the students revise their concepts and ace the examination.
Develop Advanced Skills: With the help of the Physics handbook, students understand the fundamental principles and theories of the subjects. Not only that, the NEET-UG aspirants develop advanced-level skills to attempt questions in time. These skills not only hold examination value but the practical value that comes in handy while giving the final exam.
Extensive Study Material: Learning Physics only through theory isn't possible. What the students need is a well-laid structure that can help them understand the concepts. This ALLEN Physics At a Glance (CROP) contains illustrative diagrams and extensive notes for better learning. Every concept is explained in both practical and written format to improve the overall learning process.
This Physics book (At a Glance) contains the following chapters/topics:
Basic Mathematics used in Physics & Vectors
Units, Dimensions & Measurement
Kinematics
Laws of motion & Friction
Work, Energy & Power
Circular Motion
Collisions & Centre of Mass
Rotational Motion
Gravitation
Properties of Matter & Fluid Mechanics
Thermal Physics
Oscillations
Wave Motion & Doppler's Effect
Electrostatics
Capacitor
Current Electricity & Heating Effects of Current
Magnetic Effects of Current & Magnetism
Electromagnetic Induction
Alternating Current
EM Waves
Ray Optics & Optical Instruments
Wave Optics
Modern Physics
Semiconductor & Digital Electronics
Solutions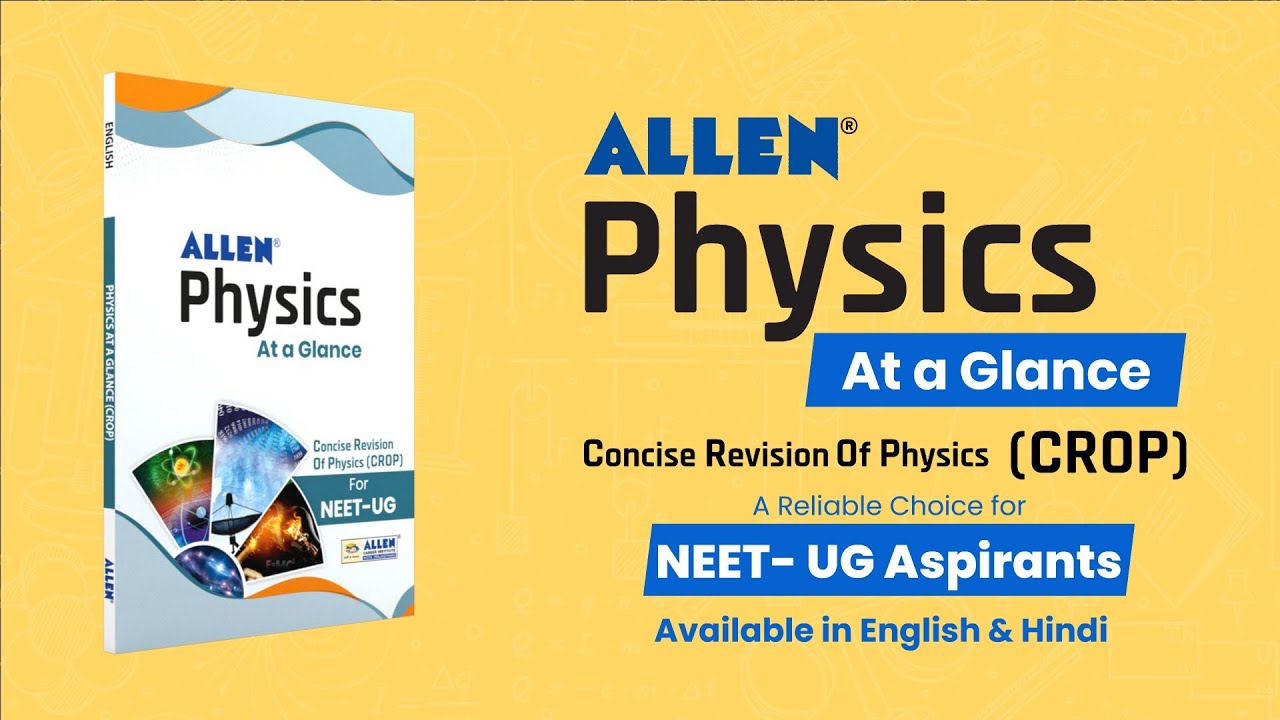 Unique Dictionary: What is special about this handbook is that there is a unique Physics dictionary printed in it. This helps the NEET aspirants hold a grasp on the basic to advanced terminology of the Physics syllabus. The dictionary also helps the students grasp every concept effectively without skipping out on anything important.
Ideal for Everyone: Whether you have taken NEET-UG classes and want to brush up on the concepts or you couldn't join the course, this handbook is everyone's guide. It provides extensive knowledge of the Physics subject and helps everyone learn & prepare for NEET UG. Students who couldn't attend the classes get to learn with the proficiency and expertise of ALLEN via this excellent book.
Prepared by ALLEN Experts: One of the best parts about this handbook is that it was carefully drafted by the ALLEN expert facilities. They have made sure that all the concepts and examples are laid down in such a way that the aspirants can readily understand and score well in their medical entrance exams. It acts as an encouragement for those who are attempting the paper.
Continuous Practice: While learning from the CROP handbook, students also get to perform assignments and solve the highest priority questions. This acts as a mock test before the final examination, which is highly relevant and to the point. Students can practice regularly and observe the areas that need focus and areas that are clear.
Tricks and Tips: Right before the exam, it is not easy to gobble up every concept and method. Aspirants always need a few tips and trick up their sleeves to memorize difficult words and theories. Physics At a Glance provides a few short tricks that help students remember the concepts till the last moment.
Easy Format: Study books with difficult formats can burden the students. Unlike regular study materials, the ALLEN handbook includes self-explanatory formats that are easy to understand, learn, and remember.
Multiple Examples: Every chapter comes with various examples for students to understand. This is a common idea, but anything can be understood and learned a little better if there is a practical example for the same.
Students who are preparing for their NEET-UG examination will find the ALLEN Physics At a Glance (CROP) in English & Hindi helpful throughout their learning journey. Written by experts, this book leaves no stone unturned in making it easy for you.
Students can now purchase this book on E-Commerce platforms like Amazon, Flipkart, Meesho, etc. Remember that this reference book is beneficial for those who haven't enrolled in ALLEN. Students who are taking coaching classes receive these books in the package itself.
The book can be purchased from various E-Commerce platforms like Amazon, Flipkart, etc.
ALLEN decided to make these books available on e-commerce platforms after receiving complaints of piracy of these Allen Books. In collaboration with sellers "Repro books on Demand" & "BOOKNETZ".
Note: This Book is for aspirants who are not enrolled with ALLEN.
RELATED BLOGS
Biology Handbook For NCR Class XII If you are preparing for entrance examinations, like NEET UG, the ALLEN Biology NCR.
Mathematics Handbook For IIT-JEE Exam Mathematics is a pretty challenging subject for every aspirant who is preparing for the.
Question Bank for Practice of Chemistry for NEET-UG The National Eligibility cum Entrance Test, most commonly known as NEET.