Biology Handbook For NCR Class XII
If you are preparing for entrance examinations, like NEET UG, the ALLEN Biology NCR Class 12 (NCERT Complete Revision) is one of the essential books for English & Hindi-medium students. The Revision book is prepared comprehensively with the help of the expert faculty at ALLEN.
Biology-related concepts require the next level of preparation and constant revision. Some of the students may find it difficult, especially the nomenclature section. With the help of the ALLEN Biology NCR Class 12 (NCERT Complete Revision) in English & Hindi, you will be able to better understand the concepts and topics. The book has a mission to serve: to prepare students to get admission to top medical colleges.
Some students may notice a significant difference after class 11, but with this book, you can easily understand the concepts and gain valuable insights into the Class 12th Biology syllabus. It is comprehensive and thoroughly explains all Biology concepts and theories. One of the book's advantages is its self-explanatory format.
Along with the NEET UG entrance exam, you can also be well-prepared for the 12th Board examinations. All in all, a stronger foundation can be built with the help of the ALLEN Biology NCR Class 12 (NCERT Complete Revision).
It is a book written specifically for non-ALLENites that provides a concise revision of the Biology Handbook. Faculty at ALLEN have specially drafted this NCERT Biology revision textbook to train applicants aspiring to be medical professionals. This book covers everything from the physiology of the human body to botany and zoology concepts for class 12th.
The book is carefully researched and drafted by the professionals at ALLEN. It aims to talk in a student's language – easy to comprehend and readable. We also provide a dictionary at the end of the book for students to understand the scientific terms.
Let us take you through some of the features of the book –
Provides adequate knowledge and revision of NCERT for NEET & Boards exam preparation.
Includes different types of questions based on NCERT to cover the entire content of each chapter.
Helps achieve a thorough grasp of the subject in a short amount of time.
Answers to questions are provided on the same page, in the most appropriate manner for medical entrance preparation.
Encourages memorization of NCERT content by hiding the answers while reading.
Designed to help students succeed in the NEET exam.
Interesting tool to revise Biology NCERT in a Reverse manner.
Aim to help students achieve success in the NEET exam.
Students will gain advanced skills with the help of ALLEN's biology NCERT book. The fundamental principles and biological structures are simple to study and learn.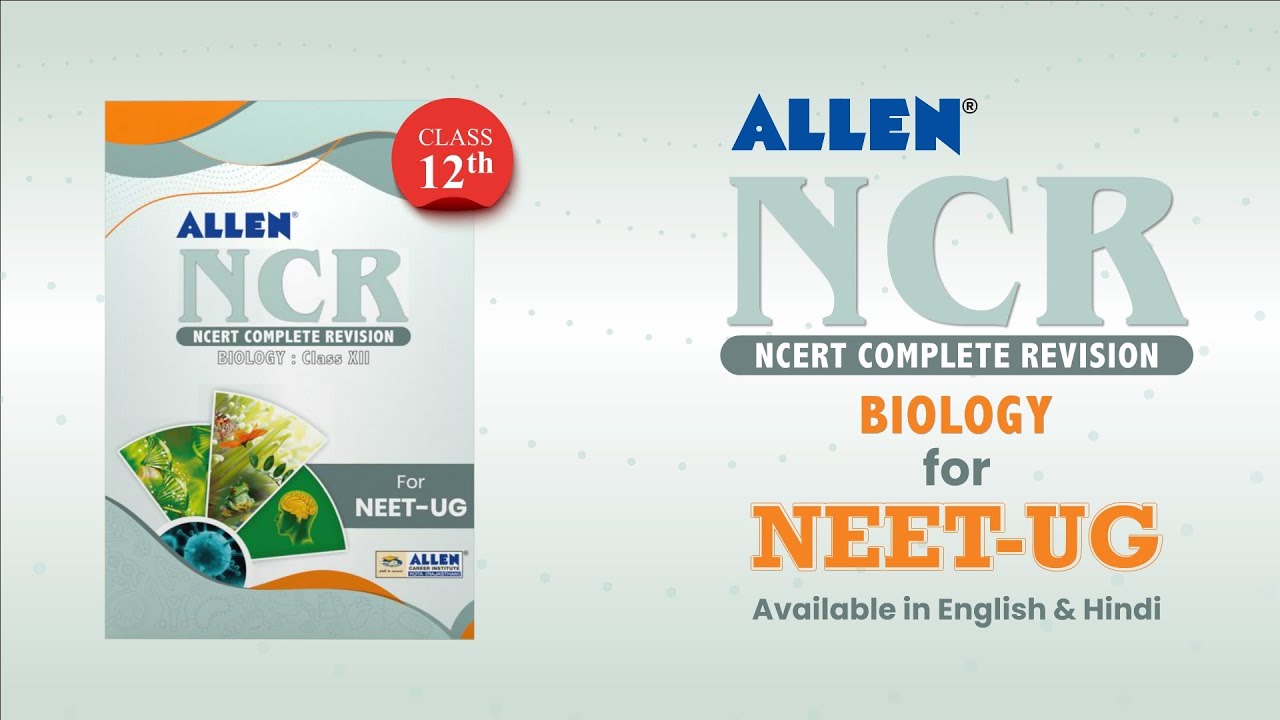 Content of this book:
Sexual reproduction in flowering plants
Human reproduction
Reproductive health
"Genetics (Principles of inheritance and variation)"
"Genetics (Molecular basis of inheritance)"
Evolution
Human health and disease
Strategies for enhancement in food production
Microbes in human welfare
Biotechnology: Principles & processes
Biotechnology and its application
Organisms and Populations
Ecosystem
Biodiversity and Conservation
Environmental Issues
NCERT Important Data Biology
Important Scientist's Name Biology
Students can now purchase this book on E-Commerce platforms like Amazon, Flipkart, Meesho, etc. Remember that this reference book is beneficial for those who haven't enrolled in ALLEN. Students who are taking coaching classes receive these books in the package itself.
The book can be purchased from various E-Commerce platforms like Amazon, Flipkart, etc.
ALLEN decided to make these books available on e-commerce platforms after receiving complaints of piracy of these Allen Books. In collaboration with sellers "Repro books on Demand" & "BOOKNETZ".
Note: This Book is for aspirants who are not enrolled with ALLEN.
RELATED BLOGS
Mathematics Handbook For IIT-JEE Exam Mathematics is a pretty challenging subject for every aspirant who is preparing for the.
Biology Handbook For NCR Class XI The ALLEN Biology NCR Class 11 (NCERT Complete Revision) is a comprehensive book for Biology.
Here's How JEE (MAIN) 2019, 2020, 2021 & 2022 Topic Wise Test Papers in English & Hindi with their.