Chemistry Handbook For NEET Exam
NEET-UG is a highly competitive medical exam in India. Thousands of candidates appear annually, hoping to ace this exam. They prepare for months and even years to achieve this goal. It is essential to master all the subjects that will be asked in the exam to crack the NEET-UG exam. For a lot of students, Chemistry is one of the trickiest subjects to get the hang of it. Having the right resources and guidance at hand can help NEET UG aspirants understand as well as their NEET Chemistry section. For this reason, ALLEN Chemistry Handbook For NEET-UG Exam is a highly recommended handbook for NEET aspirants.
ALLEN Chemistry Handbook for NEET-UG Exam is a great resource for Physical, Inorganic, and Organic Chemistry. All three subcategories have been explained in a self-explanatory manner in the book. The book is, therefore, a great handbook for students who may not be able to attend classroom coaching or simply prefer to study on their own. ALLEN Chemistry Handbook For NEET-UG Exam follows the latest NEET-UG pattern and is prepared by expert faculty members of ALLEN who have years of experience in guiding and counseling NEET aspirants.
The great thing about the book is that, on the one hand, it covers each topic in detail in an easily understandable manner. On the other hand, the topics are carefully summarised to help the students review and revise the subject matter proficiently. In addition to the summarised topics, a list of all important reactions, formulas, equations, diagrams, etc., is also included here.
The book has been prepared to keep the NEET UG exam specifically in mind. Hence, it helps the students get the required practice for all the analytical and tricky questions. All in all, this handbook is the perfect tool for developing the necessary advanced-level skills in NEET-UG aspirants.
ALLEN Chemistry Handbook For NEET-UG Exam serves as the perfect revision tool as well. It has all the topics that cover the NEET Syllabus from Class 11 and Class 12. It is a complete, comprehensive, and well-researched reference book ideal for NEET-UG preparation.
Students are always advised not to go through too many reference books for their NEET preparation. They should prepare mostly from the NCERT textbook and a renowned reference book to help them stay focused. ALLEN Chemistry Handbook For NEET-UG Exam is one such reference book that strengthens the concepts mentioned in the NCERT book as well as adds to those with advanced NEET-based questions.
Features of ALLEN's Chemistry Handbook 
ALLEN Chemistry Handbook For NEET-UG Exam covers all the topics mentioned in the NEET-UG syllabus. It follows the latest exam pattern as released by the NTA (National Testing Agency).
The book has been prepared by ALLEN Institute's experienced faculty members whilst keeping in mind the requirements of NEET UG.
The book is simple to understand, and students can go over it by themselves.
ALLEN's Chemistry Handbook for NEET-UG Exam contains detailed explanations, summarised notes, equations, formulas, a list of important reactions, solved examples, exercises, and labeled diagrams to help prepare the students comprehensively for NEET.
Students who wish to join ALLEN's coaching institute or classroom courses but are unable to do so due to some reasons can benefit immensely from the notes in ALLEN's Chemistry Handbook for NEET-UG Exam (English).
It is a comprehensively designed handbook that essentially is a revision module beneficial for revising the entire NEET UG syllabus quickly.
It also contains MCQs on the latest NEET-UG pattern to help students practice for the exam and improve their speed and accuracy.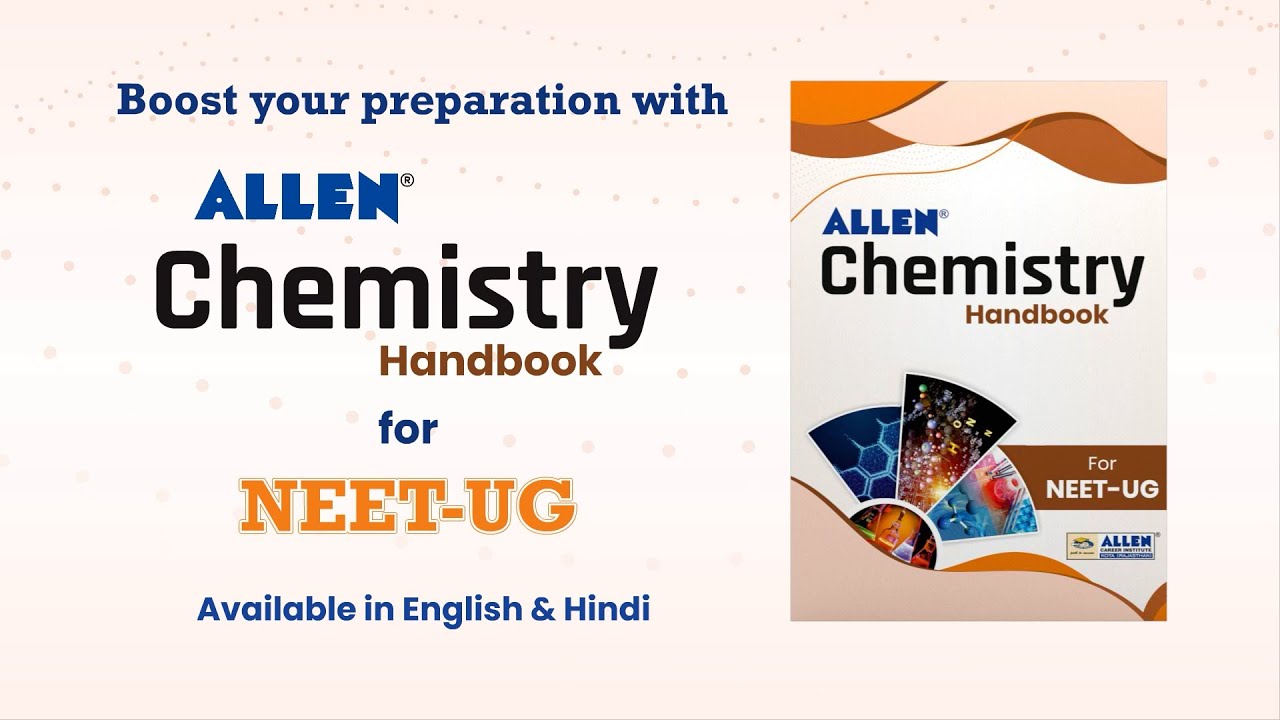 Contents in ALLEN's Chemistry Handbook
The Chemistry Handbook contains material from the following chapters/topics:
PHYSICAL CHEMISTRY
Some Basic Concepts of Chemistry
Solutions
Redox Reactions
Electrochemistry
Behaviour of gases
Atomic Structure
Chemical Kinetics
Thermodynamics & Energetics
Chemical Equilibrium
Ionic Equilibrium
Solid State
Surface Chemistry
INORGANIC CHEMISTRY
Some Important Increasing order
Periodic Table
Chemical Bonding
s-Block elements
p-Block elements
Coordination Chemistry
d-Block (Transition Elements)
Metallurgy
Hydrogen
ORGANIC CHEMISTRY
Table for IUPAC Nomenclature
Isomerism
Reaction Mechanism
Practical Organic Chemistry
Distinction b/w pair of compound
Hydrocarbons
Haloalkanes & Grignard Reagents
Alcohol, Ether and Phenol
Carboxylic Acid
Amines
Organic Reagents
Organic Name Reactions
Polymers
Carbohydrates
ALLEN Chemistry Handbook For NEET-UG Exam is a highly recommended study material for NEET-UG aspirants. It covers every topic from the NEET Chemistry syllabus in detail. The book helps in the basic understanding of concepts whilst providing the necessary practice for the NEET exam. Several toppers swear by the benefit of using the ALLEN Chemistry Handbook For the NEET-UG Exam for their NEET preparation.
The book can be purchased from various E-Commerce platforms like Amazon, Flipkart etc.
ALLEN decided to make these books available on e-commerce platforms after receiving complaints of piracy of these Allen Books. In collaboration with sellers "Repro books on Demand" & "BOOKNETZ".
Note: This Book is for aspirants who are not enrolled with ALLEN.
RELATED BLOGS
Chemistry Handbook For IIT-JEE Exam When it comes to preparing for competitive exams like IIT, NEET-UG, etc., then chemistry.
Mathematics Handbook For IIT-JEE Exam Mathematics is a pretty challenging subject for every aspirant who is preparing for the.
ALLEN EXTRA EDGE COMBO FOR NEET-UG: Soaring to Number 1 in Amazon's Teaching and Education Category In the world.